Fun |
Ooty

|
Aiswarya C. G.

|
01-03-2020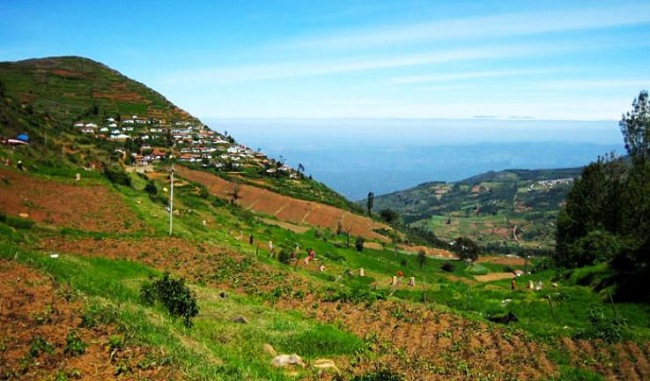 Doddabetta peak is literally a scenic destination for honeymooners or backpackers. Doddabetta peak has a staggering height of 8650 feet above the sea level and considered as the highest peak in Nilgiri Hills. Doddabeta is a picturesque land attracting thousands of visitors every day. It's a popular tourist attraction in Ooty. The doddabetta peak Ooty is located between the Western and Eastern ghats, providing an astounding vantage point for entire Nilgiris. 

Doddabetta peak View
                 Get an astounding panoramic view of Ooty on one side and Kotagiri on other side. Get ready for a romantic day out at Doddabetta peak; spend an hour or more in the refreshing surrounding with a pleasant chill climate. Get mesmerized on the beautiful cloud formations and sunrays peek into valley through clouds. Enjoy a complete 360 degree view of peaks and valleys. 
                Doddabetta peak Tamil Nadu
has an observation tower, but the place is completely crowded, you need patience to enter through the huge queue and focus on the valleys below. With the help of telescopes, get to view the popular Chamundi hills, beautiful valleys of district, flat lands of Coimbatore, highlands of Mysore and lot more stunning sceneries. 
Doddabetta peak Ooty trek routes
                    Doddabetta is exactly located in between the Western Ghats and Eastern Ghats. This junction is popularly known as four-road intersection, where you can travel into four different directions from Ooty. Now, get a taxi from the Doddabetta road intersection and reach the summit to take up the trek challenge. The summit offers an excellent view of the nearby areas covered with dense forests. On a clear day, it's expected to see as far as till Mysore.  Explore the beautiful surroundings of Doddabetta peak with a spectacular trek journey. 
Doddabetta peak
nearby attractions
                 While travelling to the highest peak of Nilgiris, never miss the sight of few other important attractions too. Upper Bhavani Lake is a beautiful spot situated just 3kms from the Doddabetta peak; it's a serene destination for honeymooners to spend their romantic evenings. Ketti Valley View is around 2kms from the peak, offering an excellent view of the surrounding valleys. Visiting tea museum is a pretty informative journey; it's situated on the Doddbetta road around 1.9kms away from Doddabetta peak. 
Doddabetta peak entry and timings
                  Ooty Doddabetta peak
is open to visitors from 7am in the morning till 6pm in the evening.
Doddabetta peak entry fee
is around INR 6 for adults and free for children aged below 5 years. Pay an extra amount of INR 10 for still camera and INR 50 for video camera. Capture the best view of Ooty and nearby areas. 
How to reach Doddabetta peak?
                    Ooty to Doddabetta peak distance is around 8-9 kms from the bus stand and easily accessible via bus or car. For people travelling through train, Mettupalayam is the nearest railway station connected by the Nilgiri Mountain Railway. It covers approximately 40kms distance and popularly known as toy train among travelers. The train is declared as world heritage site by UNESCO and travelling in toy train is considered as one of the best things to do in Ooty.