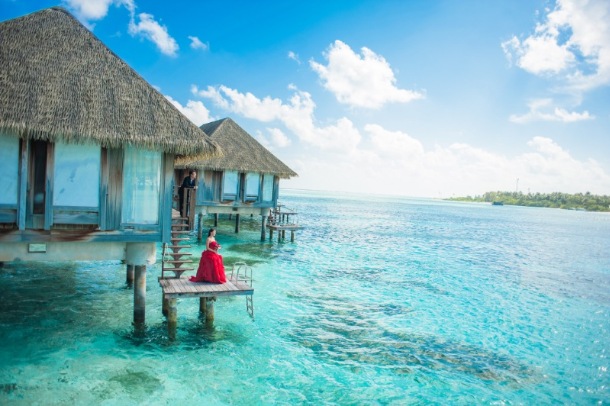 5 mind blowing reasons to visit the Maldives
The Maldives, which is aptly nicknamed as 'sunny side of life' by the tourists is an irresistibly beautiful land which is totally worth the long travel! Shrouded in the sunshine and brimming with turquoise hues, Maldives is a little slice of heaven for beachgoers and Nature lovers! The turquoise hues of its seawater, the whitest of white sands, exquisite coral reefs, etc. contribute big time to the aesthetics of this tropical Utopia and puts Maldives Tour packages from kochi in high demand. Read on if you need more reasons to visit this dreamy island nation!!
The spellbinding beauty of Maldives
The Maldives is graced with around 1200 islands among which only 200 are inhabited. This South Asian archipelago of 1,192 coral islands is grouped into 26 coral atolls lies in the shores of the Indian Ocean. Imagine savoring the crimson sunset against the azure blue sea hues on a fine day as you binge on exotic fruits and drinks near the private pool! - this is pretty much every Maldives Tour packages offers!
The surf breaks of Maldives
If you are a surf enthusiast, you are definitely in for a treat in the Maldives. Antiques, Mikado, Muli, Veyvah, Voodoos or Blue Bowls Mulhaku Rights/Lefts, Tiger Stripes or Rockets, Beacons are the best surf spots in the Maldives. 
Break from the monotonous destinations
The Maldives has many peculiar features to itself which you cannot find in any other destination. Maldives Tour packages redefine the idea of leisure travel in every way. Where else can you find numerous sand bars, surf breaks, coral reefs, aesthetic Maldivian Dhoni or seafood cuisine - all in one destination!
Coral reefs 
The marine life of Maldives is blessed with exquisite coral reefs like  Great Barrier Reef! if you can dive deep you can find gorgeous coral reefs bustling with Longnose hawkfish and butterflyfishes in large flocks! 
Surprises under the sea
Imagine diving in the Maldives, to deep and finding a wrecked ship bustling with life and colors because of the inhabitants! The Maldives is a cargo ship that unfortunately wrecked after a decade it was brought to life has become one of the most sought after diving sights in the Maldives. Wedged between Male island and Hulhule island, this shipwreck has become home to turtles, fishes, and many other marine creatures. 
So why wait for a better reason when you can avail delights as splendid as this! Dust off your sunglasses, pack in some breezy dresses and sunscreens and set off to the Maldives now!!