Mudumalai Wildlife Sanctuary
Fun |
Ooty

|
Kajol Salim

|
01-03-2020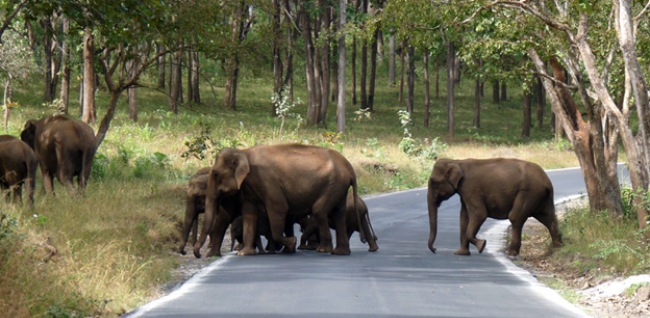 Mudumalai Wildlife Sanctuary is an essential part of the Nilgiris Biosphere Reserve. Mudumalai National Park resides on the northwestern region of Nilgiris Blue Mountains. The sanctuary shares its boundaries with different states like Karnataka, Tamil Nadu and Kerala. The Ooty-Mysore highway curves around the Moyar River. This river creates a separation between Mudumalai and Bandipur national Park. 

                       Mudumalai national park is a popular home to plenty of vulnerable and endangered animals or bird species. Mudumalai is popular for its blue skies and complementing Nilgiri hills, check out the areas of Mudumalai National Park,
The park premises is divided into five different ranges, each range has something special for the visitors,

                       Masinagudi – Masinagudi lies around 7kms from the core park area and it's a popular spot for bird watching. There are special options for plantation visits like pepper, coffee, and tea plantations. It's better to stay overnight and experience the nocturnal life in the form of resorts and lodges. 

                           Thepakadu – Thepakadu is the entrance of the park where visitors can hire jeep to explore the park area. People also book elephant safari in this spot. Thepakadu is popular for its elephant camps. People are allowed to play with elephant calves and enjoy the sight of calves play among them. 
                            Mudumalai – Mudumalai is the main park area which connects all the safari activities. The area has some lakes and watering holes. The area has plenty of mammals and birds. People are not allowed to walk in this region, even the official vehicles are allowed to go up to a distance of just 15kms. 

                         Kargudi – Kargudi is the most-interesting spot to witness the ferocious Indian leopards and other carnivores found in the park. Kargudi is known for its natural beauty and most-scenic destination in the entire park. The area has a swamp populated with elephants and bison. Kargudi has dormitories for people who wish to stay overnight and experience the nightlife at Mudumalai wildlife sanctuary. 
                              Nellakota – Nellakota is a complete forest area with dry deciduous forests, elephant grass, and scrubs. The area has some peculiar fruits like Jamun and figs. Tigers, elephants, and Indian Bisons can be easily spotted all over Nellakota. 

Mudumalai national Park Safaris
Mudumalai is a great choice for people who love safaris; they offer three major safari packages. Van, jeep and elephant safari is popular among tourists. It purely works on first come first serve basis without any pre-booking options. The safari office is located at the Thepakadu region which is around 10km from the deep jungle home. 
The park is open to visitors on all days of the week, timings and fee depend on the type of safari, 
Elephant safari – this safari carries up to four people at a time and it costs around INR 100 per person. Timings start from 7am to 8.30am in morning and 3.30pm to 5.00pm in the evening. Duration is almost similar to van safari. 
Van Safari – van safari is usually 30 minutes per trip and one van can accommodate a maximum of 25 people at a time. Van safari timings start at 6.30am to 9.00am in the morning and 3.30pm to 6.00pm in the evenings. INR 45 is the safari fee per person and it's free for children below age of five. 
Jeep Safari – Jeep Safari is specially organized by private divers and so, timings depend upon the drivers. Usually, jeep safari takes about one hour and the typical rate for 1 hour travelling is around INR 1500. 
Summers are the best time to visit Mudumalai, enjoy travelling among lush-green forest, in the wilderness of beautiful flora and fauna.