hyderabad

|
Aruna Nixon

|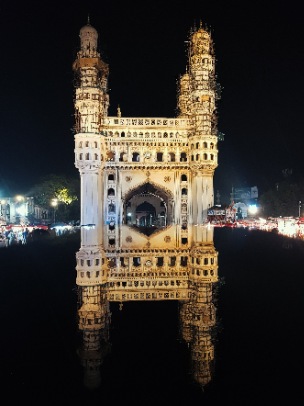 Charminar, the epitome of architectural beauty is once of the iconic monuments of Hyderabad. Charminar roughly translates to 'Masque of four minarets'. Constructed in 1591, this monument has been the most prominent landmark of Hyderabad since then. Make sure you make your way to the most spectacular monuments in India when on your Hyderabad Tour package. 
            This magnificent monument is nestled in the banks of the Musi river. The square-shaped monument was placed in the city center by the rules for it to be flanked by quadrants and chambers of the kingdom. It takes 149 steps to witness the beauty of this mosque. The monument also boasts a glorious history as well. It was the fifth ruler of the Qutb Shahi dynasty, Muhammad Quli Qutb Shah who built Charminar. It is believed that the monument was built to commemorate the end of the deadly disease Plague. 
Four arches on each side of Charminar are 11m wide and 20 m in height. 
              Charminar is hailed as 'Arc de Triomphe of the East'. Being located in the Laad Bazaar of Hyderabad, the monument seemingly merges with the bustle of the city. The giant clock from 1889 adds charm to the vintage glory of Charminar. Head to this spot to reminisce the Nawaby glory in your Hyderabad Tour package. From the first story of Charminar, you can savor the panoramic view of the old city including Mecca Masjid. 
        Charminar is the best spot to spend quiet afternoons in your Hyderabad Tour Package. The entire monument has been the perfect echo from the glorious era Hyderabad once had. The famous landmarks around Charminar are Lad Bazaar, Char Kaman, and Makkah Masjid. 
            You can behold the sight of lit-up Charminar from the street between 7 pm and 9 pm. The entry ticket rate to Charminar is Rs. 5 for Indians and Rs. 100 for foreigners.  Charminar is open to the public between 9.30 and 5.30 pm on all days of the week.