8 Scenic Tourist Attraction in Munnar
Munnar

|
sooraj

|
04-01-2020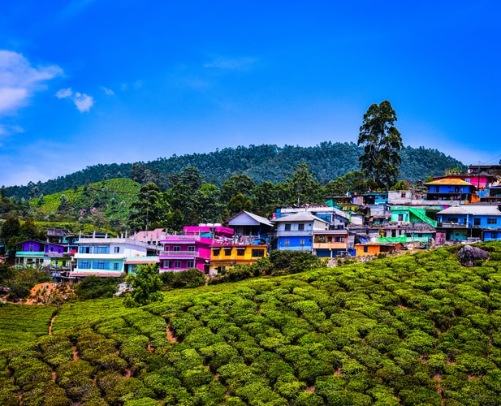 When it comes to going on vacation to the South, Kerala has always been the first choice for most tourists, and Munnar just served as an icing to the cake. Munnar is a true treasure trove for tourists and among the most breathtaking and captivating hill stations in the country. It is one of the most important inclusions to the Kerala tour package itinerary. Munnar is also an amazing destination for a honeymoon trip. So, here's my list of 8 amazing destinations that need to be on your travel itinerary if you are planning a trip to Munnar. Munnar tour packages and Munnar honeymoon packages are popular among domestic as well as international tourists.
Mattupetty Dam 
The Mattupetty Dam is a lovely place to have a day-long picnic with family and friends. The site is renowned for its specialized dairy farms and the Indo-Swiss livestock project. The Dam is used to generate hydroelectricity and also provides boating facilities on the dam. The beautiful green tea plantations and forests in and around Mattupetty are perfect for trekking and are a habitat for a large number of unique bird species.
Eravikulam National Park
Eravikulam National Park is one of the most famous tourist destinations in Munnar. The park has a rich flora and fauna and is a habitat for the endangered Nilgiri Tahr. A significant number of rare birds, animals, butterflies, and plants can also be found in this park. It offers a breathtaking view of the lush green tea plantation and the surrounding landscape, fondled by a blanket of mists.
Pothamedu
Pothamedu provides an excellent view of the tea, coffee, and cardamom plantations in Munnar. The rolling hills, the lush green mountain ranges, and the stunning scenery here are perfect for trekking and long mountain hikes The exquisite tea and coffee plantation, the fragrant cardamom fields, and the undisturbed charm of this place are sure to rejuvenate you with its intense aroma.
Attukal 
A magnificent waterfall in the outskirts of the town, Attukal is a must-see spot in Munnar. Situated in the secluded area of Pallivasal, Attukal is at its finest during the monsoons. You can hear the sound of water gushing down from a distance away. This tourist spot in Munnar features some stunning views nearby, so you can click great photos. A panorama of waterfalls and green hills, Attukal is also perfect for long treks.
Rajamala 
Rajamala provides an adventurous experience to your Munnar trip. Part of the Anamudi peak, the highest peak in southern India, Rajamala possesses some wonderful trekking trails. If you're planning to trek to the hilltop, you'll have to start your journey early in the morning, or you'll be waiting for a massive queue outside the Rajamala ticket counter.
Chithirapuram 
Chithirapuram is another scenic spot in the vicinity of Munnar, renowned for the Pallivasal Hydro Electric Project. An idyllic cozy little town that preserves its culture, this place is famous for its old bungalows, cottages, and courts. Chithirapuram still possesses an old-world charm. The extensive gardens with tea plantations make this place even more charming.
Devikulam
This idyllic hill station with its velvet lawns, exotic flora and fauna, and cool mountain breeze is a delightful experience. Devikulam has a large collection of lakes and waterfalls to look forward to. Pay a visit to Sita Devi Lake, which is said to have medicinal benefits and is believed to have a connection to the Indian epic Ramayana.
Nyayamakad
Nyayamakad, situated between Munnar and Rajamala, is a land of stunning waterfalls. Nyaymakad is sure to attract your senses and offer you the best of recreational facilities. The captivating surroundings make for an amazing picnic spot and trekking site. Get immersed in the sense of adventure as you walk around and explore the destination.
Explore the beauty of Munnar with Seasonz India Holidays and get exciting deals and offers.     They provide custom made Munnar tour packages and Munnar honeymoon packages that comply with all the COVID guidelines.
The Kerala government does not demand any COVID test, COVID certificate, or quarantine requirements for domestic travelers who will be leaving the border within 7 days. If you're planning to stay longer than 7 days, you have to carry COVID negative certificate or undergo a COVID test upon entering Kerala. If you fail to do both, you will have to stay in quarantine for seven days. Every domestic tourist must register on the covid jagratha portal and obtain the E-pass. Those showing symptoms of COVID-19 are advised against travel to the state. Use of hand sanitizer, face mask, and maintaining a social distance of 2 meters is mandatory.